Page 1 of 2 • 1, 2

Posted on Mon May 08, 2017 5:46 pm
Thread Details
Arden's Place ⋅ windy, Storm Rolling In, but surprisingly warm ⋅ Just After Dark
Outfit: (Click to view full scale. This will
not
open in a new tab.) - Only differences are... Vin
is
wearing socks... And his pants
don't
have holes in them. Everything else is accurate, from the hat and how it's worn, all the way down to the shoes.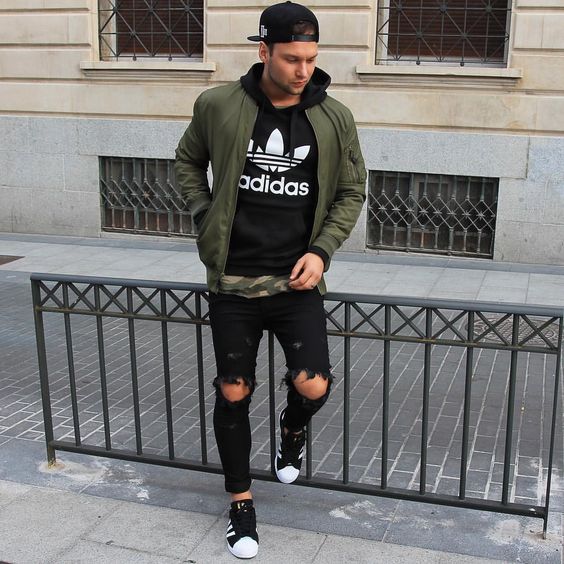 I guess I'd grown tired of phone tag. If that's even what you wanted to call it. I didn't even know for sure, maybe I'd had her number wrong. One thing I did know, is I had a moment of free time,
finally
, and I wasn't going to waste it. So I went straight to her place. Pulled up front, parked along the street, and I didn't give a flying fuck if I needed to wait here all night and head to work straight from here, I was gonna do whatever it took to speak with her. I mean... I get it, shit was probably hard for her, all of this was probably just fucking
rough
... But she was our spiritual leader now, and she was needed.
I grabbed the paper bag by it's handles, and carried it straight to her front door. It made violently loud crackling sounds as the wind shoved it against my legs as I stepped, my hat nearly flying off but I managed to catch it before it could. Heh, I guess Louisiana was right, my reflexes had improved. I smiled at the thought as I knocked on the door and rang the bell, staring down at my shoes and shrinking in to keep my neck shielded from the breeze. I knocked again, and rang the bell three times. Maybe she was sleeping, maybe she had company, at this point, I didn't give a fuck. We needed to talk about what had happened, whether she liked it or not.
Posted on Wed May 10, 2017 7:27 pm
Outfit
I started at the sound of a knock and then looked around, momentarily disoriented. I was laying on the couch, and I must've fallen asleep. It'd gotten dark while I was out and an empty beer bottle rolled across the floor as I stood up and accidentally kicked it.
I'm coming!
I shouted when I heard the doorbell ring several more times. I made my way through the dark room and flipped on the porch light and the hall light before I finally started to unlock the door.
I hadn't made any plans that I could think of, but maybe Sam or someone had decided to drop by - hopefully with food. I pulled the door opened and stopped, surprised,
Onyx,
I greeted him,
I didn't know you were coming.
I stood there awkwardly for a moment before my senses came back to me and I opened the door wider,
come on in.
I wiped some sleep from my eyes while I waited for him to cross the threshold.
Posted on Thu May 11, 2017 9:58 am
I don't know what I'd expected to see when the door opened. Dark circles, hair a mess, black running down her eyes and a bottle gripped in her hand? I guess maybe that was what I expected. And I wasn't blaming her for our lack of contact, I was partially to blame too. I'd been far more busy than I'd ever been in my life before. Trying to be good was fucking exhausting, honestly... But somehow... Invigorating too. Neither of us were to blame if you asked me, mostly because blaming our inability to come face to face on coincidence was a lot easier than trying to wrap my head around some other grim explanation.

I heard the rattling around on the other side of the door first, then I heard her voice. Thank the fucking ancestors, she was home. I gripped the handles on my paper bag tighter as I waited for the door to be opened. The sight of her twisted my stomach up. My first. No one would understand that. No one but her and I would understand that feeling. When you're looking someone in their eyes, someone you're meant to be mated to, and you realize... You thought you knew them before, but now that they were bonded to you, you didn't know a damn fucking thing about them. They were a stranger. Not a one night fling that you only knew the name of... But a life partner. Don't hate her for it, don't hate her for it... I repeated over and over again in my mind.

Yeah I'm sorry... I wouldn't have come by but I had a moment of free time and... I passed through the threshold and took a few steps inside, turning so I could face her as I finished speaking. ...Did you know I've been trying to get a hold of you? I mean I've been busy... Pretty much nonstop since I got back honestly, but I have been trying. My eyes uncontrollably wandered towards the end, my voice trailing off quietly with them as they landed on a beer bottle on the floor. Can we sit? I asked, not waiting for her answer and taking a seat anyway with the paper bag placed on the floor between my feet.

It suddenly got awkward. I didn't know where to start. I just mindlessly attempted to pop my knuckles (something I never did) while trying to pretend my mind was occupied with absorbing the appearance of her home. But my gaze still found a way to land back on her, like a magnet drawn to a metal surface. How are you uh... I scratched the back of my head and re-seated my hat. How are things? I asked awkwardly. How are you holding up? the question I almost spoke, but no... It was too personal, it didn't feel right. So I just looked at her blankly and waited for her voice to fill the air. All the while hoping she'd give me honesty from the get go and not just a vague ''fine'' most people did... But chances of that happening were unlikely.
Posted on Fri May 19, 2017 11:25 am
Even though Onyx and I had never really been best buds or anything, I'd never felt awkward around him until now. I didn't know how I was supposed to act anymore. I couldn't really keep antagonizing him like I had. He was my mate now. There was nothing I could do to change that.

I stared at him for a moment while I tried for the millionth time to process these thoughts before I realized that the door was standing open and I moved to shut it. I turned to face him and followed his line of sight to where the beer bottle I had kicked earlier was resting. I kept my face impassive as best I could, but I couldn't stop feeling... embarrassed? Not about the beer bottle, but about my laziness about getting into contact with him. I hadn't been avoiding him like I had the other wolves - he had said that he would help me and I was grateful for that. I was avoiding my responsibilities though. I knew that I could use my lack of knowledge as an excuse not to do my new duty, and the moment Onyx started to teach me I would have to fully accept what I was. I've been meaning to call you... I said lamely. I'd sent him a vague text once or twice just in case, but I hadn't really put any effort into trying to meet with him.

Oh yeah, of course, I said in response to his question, Do you want anything to eat or drink? I asked, my eyes sliding back to the beer bottle on the floor and somewhat hoping that he would say yes so I would at least have a reason to go do something other than awkwardly avoiding eye contact.

My hands fidgeted around in my lap - fingers picking absently at hangnails. I had no way to know how to go about responding to him. There was no precedent set for how to deal with the wolf you've just been mated with asking you how you're dealing with shit when the truth is you're not dealing with shit at all but you're embarrassed to say that and you would really like to leave so that you don't have to talk about what a loser you are. Ah well...

If I told him the truth, would he be angry? I'd never been afraid to make Onyx angry before, and yet I was tip toeing around him, afraid of what he would say. I'd never cared at all before. I'd been content to assume certain things about him, and I'd allowed those things to change how I viewed him completely. Even when we'd talked more my opinions had never changed. Now I couldn't be content to hate him like I had before. I was dissatisfied with the idea of hating... what he now was to me. Things have, uh, well, they've been better, y'know?
Posted on Fri May 19, 2017 10:58 pm
Well I wanted to give you time... I started, my voice overlapping with hers and I bit my lip to keep from repeating that mistake. We might have numbers mixed up or... Maybe we've just been playing one mighty fucking game of phone tag, I don't know... Remember what she's going through. Remember what it's like. I was trying, so fucking hard, but I wasn't the only ranked wolf that was valued for his rarity. She was a Spiritual Leader... Which might have meant fuck all to me, but it meant the world to other wolves. Especially those so consumed with despair and loss. They needed her, and maybe she didn't know it, but she needed them too.

Uh... You got anything strong? I could use a drink. Yeah, liquor would make this easier. It always did, didn't it? Fuck maybe she'd get something for herself and we could cut right through whatever band of tension had attached itself to her, and the other end to me. My hands fiddled in my pocket, wanting to point out the elephant in the room but that didn't matter, did it? She likely knew where that elephant was just like I did. There was no point in making this harder...

I glared, not at her, not at anything, I just glared, staring down at the bag I'd brought in with me just so I could have something to look at that wasn't her. I get it... It came out a whisper, which I hadn't intended, but maybe it was better that it had. Those words could easily be taken a completely different way if you weren't careful with your tone. I wanna... Well I don't want to, I'll be honest, I don't want to talk about it. But we need to... Now... I hope you understand that. But first... I dug into the bag and pulled out a shoe box. It was all I had left of Ghost. Inside was... It was Ghost. It was her and she belonged to Olympia now. Various trinkets, notes, letters, herbs... She hadn't kept a journal, I guess in the Pacific that was an Alpha thing... That was something I planned to change. Because when I'd found Ghosts box, I realized it contained her life, and it felt so fucking light. It just wasn't right, it didn't feel right for so much of her to be gone. I wasn't exactly close to her. I had been closer to her than any other Spiritual Leader, but we weren't close by any means, and because so little of her had been left behind, I realized I never would be.

I passed the box to Olympia, It's all I have left of her. And... I don't know much about Spiritual Leaders... I don't know as much as I should Olympia. I wish I did, I wish I had more to help you, and I'll try, but... You need to... You have to start spending more time at the den. You have to start spending time with Reprisal. We haven't reformed yet, we need you for that, and I just think that with everyone's help you'll have an easier time accepting this. You'll have an easier time adapting. Morale is high, but every day we go without reforming it dwindles more and more. You have to learn how to use what you've been given. Maybe it feels like a curse, maybe it doesn't, that's not up to me to decide. You're just... You're needed.
Page 1 of 2 • 1, 2

---