Page 1 of 5 • 1, 2, 3, 4, 5

Posted on Sun May 07, 2017 7:59 pm
Thread Details
Skatepark ⋅ Clear ⋅ Evening
Lil's outfit. Cut off short Jean shorts. Heavy Black boots. No Jewelery. Leather Jacket is Vins. Skin is very pale, legs are skinny and bare. Knees are bruised. Eyes are bloodshot. Fresh looking scratch marks on right side of chest. A wound that looks unable to heal.
Sad. That was the only way to describe this. Not in the
cry a river
kind of way either but in a
fuck you're a lame wolf Luxx
, kind of way. I'd told stories to some about my experiences as a Lone but I don't think anyone really got it. Unless they were on the receiving end they just couldn't. They didn't understand how it felt like a cloud followed me wherever I went. That the majority of packs I had come across had shunned me in a variety of different ways. Was funny that two of the only packs to have been somewhat welcoming had now come together in Index. Could be that I was meant to see that as some kind of shitty sign from the Ancestors. Time to stop running and conscript. The two packs who hated me the most. It hadn't always been that way. I had made it that way. There was no turning back the clock. No changing the past. Not much point now that I was going to die during detox anyway. It wasn't like I really wanted to either. I just wanted to relive those moments that were so few in number.
That was why I had ruined Ozra's stock of vodka and whiskey. Really done a number on the supplies. I couldn't even walk straight. Bottles clanked in a plastic bag barely being held by my fingers. A cigarette sticking out of my lips, unlit, just sitting there. No music. No Fanger blood on my person. Just me and the skatepark. It was rundown barely used by teenagers and children who had cell-phones and video game consoles to grab their attention. To them it was just another crappy landmark they passed on the way to school. A spot to stop and send a text to their boyfriend or girlfriend about the movie they had watched the night before. To me it meant more than could be described in words. Index had managed to provide me with three places that I loved more than anything. My rock in the forest that overlooked a valley, where I could watch the most brilliant of sunsets. One Shot that felt more like home than any house ever had. And this place.
We had been drunk on every occasion we had met here. Which was why I was intoxicated now, not that I needed an actual reason. I had thought back to when I had first met Onyx during a flood and realised that he had never exactly been horrible to me. Odin had wanted to throw me out of town but he hadn't gotten his way. The rest of the Pacific hadn't been delighted at my presence either but Onyx had been different. We hadn't really been friends. We most definitely weren't now and would never be I imagined but through drunken hazes I remembered brief flickers of nights at the Skatepark. Couldn't be sure if they were from one night where I might not have been as drunk or from many that I had just hashed together. It didn't matter. What mattered was they were times that I had felt accepted by someone who had every reason not to spend time with me. Even if liquor had been a catalyst each and every time.
Placing the bag down on a risen slab of concrete I pushed down the plastic, tucking it around the base of the four bottles inside. Two vodka, two whiskey. Laying flat on my back in a patch of grass, nature that had managed to reclaim dominance amongst the half pipes and ramps, and pulled out my phone. For once I wasn't sending a text message to X. Looking at photographs of Sona or even checking my timetable to see where I was meant to be. Pulling up my photo album I flicked to the oldest image of the lot. Onyx's arse with a lit cigarette clenched between the cheeks. Sniggering a huge happy grin coming over my face I lit the cigarette in my mouth drawing in a lungful of smoke.
Posted on Mon May 08, 2017 1:19 pm
Click to view larger. (This will
not
open in a new tab.) - Vincent is also wearing an all black flat-billed cap, backwards as usual.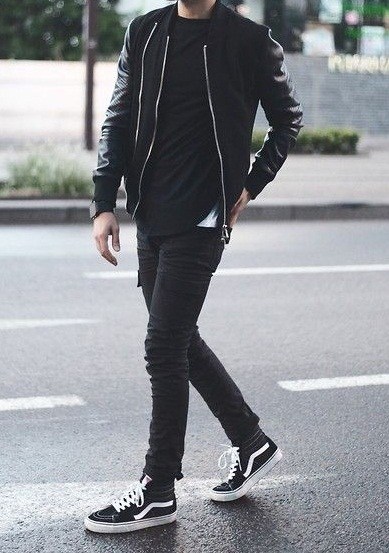 I'd said it before. A crash was coming. Things had been too good for too long. And it wasn't like anything bad had happened in particular. I just knew something bad was coming. I woke up with that feeling, the kind you get when your phone rings at two in the morning, and it's a family member, and you just know... It's not because they never call you past seven, it's just a feeling, that something bad had happened, and everything was going to be different.
I'd spent most of my day pushing that feeling down. Bottling it up and trying to pretend it didn't exist with plastic smiles and spontaneous conversations about the weather with strangers in line at the liquor store. I guess a part of me had known, since I'd gone to the liquor store for smokes, and left with two bottles of jack, the first one I'd downed throughout the day, the second one had seemingly vanished. I didn't know if I drank it, lost it, gave it to a bum. In fact, I found myself laughing into the night, because there wasn't much I did know. For example, I didn't know how I'd managed to lose a bottle but my hat was still firmly planted on my head... And I didn't know how I'd ended up walking across that old empty lot by the Skate Park, or even where my truck had disappeared to.
The terrain wasn't particularly difficult either. I'd trekked through far worse in human and wolf form. Maybe it was a little uneven, lumps of dirt hardened by the weather over the years, trash bags scattered about from lazy fucks that didn't want to pay the fee at the dump... All were easily avoidable with my glowing eyes, I could see every lump and dip in the terrain as I neared it, but I still managed to wobble about drunkenly, tripping over tilted over shopping carts and nearly face planting as my feet sunk into shallow holes. I couldn't even figure out where I was walking to, or why I hadn't turned back to find my truck. I just kept moving forward as if I had a destination.
Things started feeling really weird when my feet hit the concrete, suddenly the ground was steady and even, yet I still swerved about, wobbling on one leg occasionally as I began to lose balance as if the earth was tilting on it's axis below me. I don't know if I'd been distracted by familiar scent in the air, or if that was just an excuse to explain away the idiot move that had my foot moving forward for another step, unknowingly striding into empty air. I put all of my weight onto it too, and I knew the second my foot was supposed to be hitting solid ground, but it was too late. I was already falling face forward into the big cement bowl meant for skateboarders. My body shifted and I slid down the entire thing sideways on my back, my ankle making a snapping sound but no serious pain following. My shirt slid up and my back was met with cold concrete, in fact, it wasn't even the fall that I would likely feel in the morning, it was the cold feeling at my back that had me groaning and growling and cussing under my breath.
I flopped about like a fish out of water trying to just get myself back on my feet, wondering how the fuck I was going to get the hell out of this man made crater. The scent was stronger, but I still didn't think anything of it, even when I heard sniggering from the land above the hole I was standing in, completely unsteady. I planted my hands on the edge, and sloppily pulled myself out, my leg stretching out to the side, foot curled over the edge like a toddler trying to climb out of the side of a pool instead of using the stairs at the shallow end. I managed to roll out, landing on my back, knowing damn well who that scent belonged to before I even looked up at her, my head planted between her feet, and the glow of a cigarette hanging out of her lips stealing my focus. I lazily reached up, unintentionally shoving her hands which were holding her phone to the side, and snatched it right out of her mouth, then plopped it in my own.
My eyes darted between the skinny legs on either side of my head and I glared. I knew it was her, but something about her wasn't right... I exhaled a series of smoke rings up towards the night sky. Wanting to ask her why the fuck she looked so different, but instead, I opened my mouth... And something else came out, mumbled and slurred.
I look like shit.
I'd meant to say
you
, but what came out was likely true, so I shrugged my shoulders and took another drag.
Posted on Mon May 08, 2017 5:37 pm
Thought nothing of it that I could smell him. In my dreams I could too. Every little tiny scent marker. Cologne al la Alpha didn't work the same way on others as it did on me. Allergies worked the same way. Break out in hives when someone slaps a bit of peanut butter on your sandwich? Then rest assured if you avoid the shit the next time a nut finds its way into your meal someone is going to have to call the paramedics. The scent was all in my head. Deeply ingrained into the jacket I was wearing so I just inhaled deeply. Thanking the Ancestors and the Fanger blood for giving me a leg up into memory land. I heard scrabbling assuming it was an animal of some description nomming on a tasty morsel left in a wrapper. So my heart literally stopped when a hand banged past mine to take the smoke in my mouth. Had I fallen asleep? Grinning lazily I wriggled slightly, anticipating a break from reality. What was on the menu this evening? I knew who would be the main course but it was a lucky dip as to what starter was going to be served. I liked them all.

Sitting up shades of grey filtering out of my lips still upturned in a happy grin, I cocked an eyebrow at seeing the Alpha's head between my calves. Fuck my skin looked luminescent next to the black of his hair and cap. Shame I had no money for a tanning booth. Could meet the Ancestors with the skin of a sun-kissed beach bunny. Actual sunlight did nothing now. Didn't even burn, well it did, just not physically. "You smell good to me." Had meant to say 'look' but whatever it still worked. Scent receptors were on overdrive. My eyes half open, heavy lidded. Weighted down by alcohol but also narrowing my vision so that energy could be properly distributed to my nose. Could smell everything. The whiskey on his breath. The smoke curling into the air above him. That mouth-watering Alpha toxicity that managed to dispel every other scent. Asserting its dominance.

"That was mine Vincent." Not one of the words featured the usual snide tone. Was hard to do really when I was practically whispering. The liquor and dream taking any semblance of animosity and rolling it down the half pipe. Reaching inside the leather jacket I removed my packet of cigarettes, pulling one free with my teeth. Getting the lighter to work. Yeah, about that. Cursed under my breath as I couldn't get my fingers to work properly, my thumb having a mind of its own. Shaking the fucking thing didn't help either. Wasn't a lack of fuel just a void of dexterity. Giving up I dropped the lighter carelessly and reached down to hold both sides of Onyx's head. "Hold still." Mumbling around the cigarette in my mouth I shuffled down awkwardly. Leaning over I pressed the end of my smoke to his. Took some concentration that was for damn sure. Had to keep my hazy gaze locked on the glowing embers puffing softly to get mine lit.

Murmuring delightedly I tilted my head back up and blew a swirl of smoke from the corner of my mouth, before taking the cigarette from my lips. Looking back down I twirled the stick in-between my fingers a dirty smirk crawling its way across my features. "Now. What can I do for you?"
Posted on Mon May 08, 2017 9:05 pm
When we'd met here before, I'd been an outcast too. Not in the same way, and if you asked her, she'd have no qualms telling you all about how much more severe her situation was than my own. Regardless, we did have that in common. I wouldn't say we bonded, I guess being in one another's company brought the same kind of comfort as frequenting the same diner for me, back then. The food got old fast, but, other places just didn't fit the same. Maybe now that I was wiser, I could accept the the truth of the matter. The real reason I had come here so often. In some twisted way, her shitty circumstance probably made me feel better about my own. Or maybe it was something else, something even more fucked up and shitty. Who knew, it'd been so long and back then I liked to pretend I wasn't the piece of shit I truly was. So it's hard to pick out the shit I convinced myself as truth from the shit that was really true.

Things were different now. It wasn't just that she looked different, or that I'd changed, or the fact that the last time we'd actually had a real fucking conversation was the day before I bolted out of Index for a month... Looking at her, I didn't feel hatred, I didn't feel pity, I didn't feel angry, but I didn't feel anything good either. I felt nothing. Maybe that said more about the bottle, or possibly, the two bottles of Jack I'd downed throughout the day than it said about me as an individual. Actually, that was incredibly fucking likely. I didn't give a shit, I had smokes, I was trashed, I couldn't ask for much more than that. I could be in the company of fucking Jesus, or Satan, and it'd make no difference to me. Liquor had provided me with the beauty of a blissful type of drunk, which used to be common... But had since become rare, so my ass was going to appreciate it.

My brows lowered as I looked up at her curiously, her facial features distorted like a Picasso portrait from this angle. It wasn't until after she started to speak again when I realized what she'd said, suddenly all too aware of the scents surrounding us. Garbage, grass, cement, booze, smokes, the list went on. If it wasn't for the fresh night air diluting it all, it'd be pretty fucking distinct. I could have gone on as happy as ever sniffing the air and smoking her cigarette, but my stomach twisted uncomfortably. I didn't know if it was the liquor, or if it was the sound of my human name coming out of her mouth. It was likely a combination of both. Come to think of it, did I even remember her human name? You don't smoke. I said casually, my voice thick through the smoke I was exhaling. Which was good, it hid just how slurred the words truly sounded.

I hadn't even realized that my eyes had closed, not that it made much difference. The really trashed version of myself was known to walk around with my eyes barely open a sliver. Freaked people out too, I'd had a bunch of folks tell me I looked like I was sleep walking or some shit. Nope, apparently liquor greased up my eyelids so much they didn't have enough resistance to stay open as wide as they usually did. But it did make the feeling of hands gripping the side of my head all the more weird. I hadn't expected it, honestly. I opened my eyes, only two cigarettes distance between her face and mine, and my eyes woke right the fuck up, wide at first, then narrowed as I looked down to help the best I could with aiming my cherry towards the end of her smoke. I probably looked cross eyed too.

You runnin' a business now? I asked, cocking my head curiously in response to her question. It was a weird fucking way to word it, something I probably would have dwelled on had I been sober enough to care. I pulled myself upright, a head rush followed, and my body wobbled, I felt like my torso was rocking back and forth, then side to side. Like being on a boat in the middle of a lake during a particularly windy day... That feeling didn't stop when I spun around with my legs tucked under, criss-cross-applesauce style. Where the fuck were my beer goggles? Looking at her now, she looked worse than before, not better. Whiskey was doing a number on my head. My eyes instinctively traveled down her neck as I dug in my pocket for a fresh smoke. They continued to travel down her chest as I plopped the new one in my mouth, and then down to her bony and bruised knees as I used the old smoke to light the new one. They traveled back up again, lazily, and I didn't give a fuck if I was being obvious. That new? I pulled the flap of her... Wait... MY jacket to the side so she knew what I was talking about, the wound on her chest... Fuck... Was that really mine?
Posted on Tue May 09, 2017 3:10 am
"Nope" Still after weeks of smoking daily I refused to label myself as a smoker. I'd tried, really tried to stop. Thought about when and why I had started. His truck. It was when I had picked up his truck. After ripping my claws through the metal in a rage. After declaring that I didn't want him to come back. I'd thought about that too. Wondered why I'd lied. Then I realised I hadn't. How was it possible to feel one way one second and then have a different stance the next? How I could entertain Orion's babbling about me eating Onyx's heart when I knew I couldn't do it. Though while the conversation was happening feel like it was natural and real. Like I was making plans. My head was all kinds of fucked up that was for damn sure but really I was beginning to worry I did actually have time reversal based brain damage. This smoking was the same shit. The same supermarket store brand of who knows what the fuck. I was intentionally aware of the fact I had been trying to physically replace him. Wearing his jacket. Sleeping in his bed. Secretly dictating orders that were mine only being presented as his. At the same time I was also conscious to the fact it was something different too. All of it was comforting. Nowhere as good as music or booze but it stopped me from going off the deep end. Didn't understand why it would have that effect but it did. Probably something to do with the Fanger blood sex dreams. Of which this one was starting out slow. Most of them nowadays got right to the point. Which was super because I never managed to stay asleep for long. Was really drunk though so I could roll the dice and hope that being trolleyed would mean I'd stay unconscious long enough for the finale.

What was this dream all about? They all seemed to have themes. Some of which were quite brutal considering the point of them. Me having to convince Onyx that fucking me would grant him a noble prize. Other scenes pulled from my memories pointing out shit that I had shaken off. Like the time Onyx had said I smelt like an angel. Fuck my life if that hadn't been an in I don't know what was. Back then I hadn't even been remotely interested in jumping his bones. Still wasn't. Not in real life anyway. Fantasy was different because there were no consequences. "Sure lets go with that and for you the opening hours are up for discussion." Fuck if this was real and I wasn't drunk then that comment would have gotten his face ruined. In all honesty I had been acting like a street worker. I didn't auction myself off to the highest bidder or anything. So far I'd managed to maintain a close knit black book.

When wolves looked at me like that now I knew what they were thinking. Only one had other thoughts in his head when his eyes roamed. Had no idea what Orion was thinking when he looked at me but he certainly wasn't seeing what I saw when I looked in the mirror. Guess he was just into the battered emaciated goth doll look. Was going to get worse too if Portia was anything to go by and she most definitely was. Most saw what I did in my reflection. That's why they called me The Ghoul. Charming motherfuckers. I looked sick. I looked tired. I looked hungry and I was all of those things and also none of them. All I needed was a hit of juice and I could trounce any wolf one on one. Exist for days on end with little to no sleep, not even having the desire to. Food? Well food came in liquid form. Vodka was made from potatoes right? Here, in Luxx's head though Onyx joined the ranks of Orion. Wait….I didn't normally look like this in my dreams…

"What's new? My tits?" Was he making a jab at them being smaller now? This was so one of those, reluctant Alpha dreams I was sure of it now. How to get the ball rolling this time? Usually I didn't have to think about it. Just went through the motions but this was also one of the more lucid ones. Actually feeling him move the jacket told me that. Had only experienced a handful of those gems. Where everything smelt, felt and looked really real. So I was being given the opportunity to properly play this out huh? Just like I would if I was actually going to do it. Had I known I'd get this level of control in my pornos I would have moved to the skatepark instead of my current living arrangements. "Oh, that." Battle wounds took twice as long to heal now unless I poured blood all over them. This one wasn't even from a training session at all. I'd actually torn through Onyx's apartment to find the scrap of paper I had drawn a certain symbol on. Lining it up against the deep gouges in my chest to see if they matched in any way shape or form. They didn't. It was a fucking relief that I hadn't been trying to carve it into myself in my sleep. That I wasn't trying to share more than just fucked emotions from the scrying bowl or his belongings. It wasn't random. I'd overlaid the same design over and over at different angles and sizes that it was just an ugly mess now.

"It's kinda like yours, but not the same thing." I pointed to the body part I had seen his glowing invisible tattoo. Pointed to being a rough generalisation because I gestured rather widely with the cigarette in my fingers before taking a drag. "Guess it would heal eventually if I could stop doing it." I made a wild scratching motion with the unoccupied hand, hovering the fingers over the wound. Not actually touching it. Hurt like a bitch. "Wakes me up from the yummiest dreams." Every single damn time. It I wasn't awoken by some wolf demanding they speak to the Alpha or the Fanger blood deciding it was sunrise, it was the burning sensation. Like silver. "Though we should compare to make sure they aren't the same symbol right?" Retardedly wobbling onto my bruised knees, I reached out with a hand, curling the fingers around the arm in question. Though starting much lower than needed, running my hand up against the fabric on my way to the ultimate goal. Enjoying the journey more than I should.
Page 1 of 5 • 1, 2, 3, 4, 5

---