Posted on Wed Mar 01, 2017 11:53 pm
Thread Details
An empty condo | 50F, dry | evening
This post is backdated a bit :3
I only had the bare necessities here, but the rest would come soon. The distance between Seattle and Index was negligible, but the repetition was becoming more than inconvenient. As of late, I was in this small town more often than not, including now, when my goal was to befriend the alpha of the local kennel. I sat down at my desk, found some old letterhead, and wrote a letter to an old friend.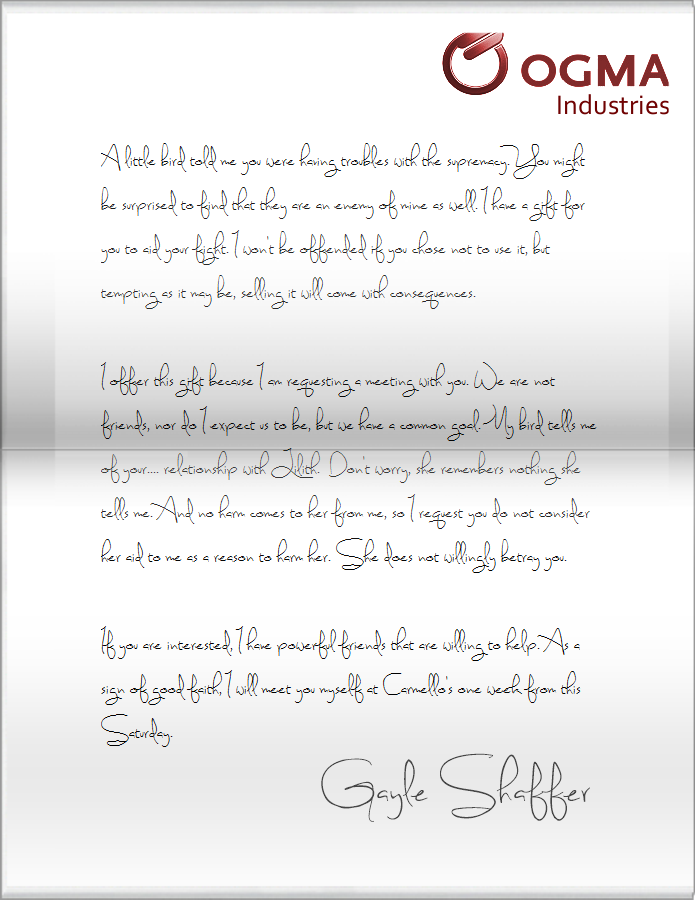 Lilah, is the songbird here yet?
"Yes,"
she responded, and promptly opened the window to let in the patient black raven.
Turn,
I commanded. The girl stood before me, and I smirked as I realized my style, even if it was a cheap imitation, might have been rubbing off on her. She enjoyed this, didn't she? Maybe I would stop erasing the memory, just for a bit. Just to see if the loyalty was still there. I would ponder it, because it was always more fun when there was something left to chance. But now was a time for diligence.
This one is a little different.
I couldn't help but to smile as I began to explain her task. I was excited, and honestly had no idea what the outcome would be. Would I be dining alone at Carmello's? Of course I didn't need company to buffer my pride, but I didn't want the inconvenience of having him not show. I got what I wanted, so the alpha
would
eventually see the benefits of working
with
me, whatever it took.
I have a letter, and a gift. I don't think they're too heavy for you. Just make sure he gets them. It's alright if he sees you.
I waited for her almost vacant nod of understanding, and then I instructed her to shift. Lilah attached the letter and the vial to the bird, and through the window she went.
Posted on Thu Mar 02, 2017 5:21 am
It took some time for me to decide whether or not I wanted the rogue as well. The blonde, who, funnily enough was called Lilith. She'd proven herself once, a long time ago, surviving my whim of brutality. From the information I gathered, while she wasn't an official part of the Pacific pack, she was their only chance of giving the Supremacy any resistance at all. Cocky, but what wolf wasn't? So, with my little birdie was sent another note, and another vial of my precious gift. With Lilith, I could count on her to eventually consume my gift - and that wouldn't come without a price.
---